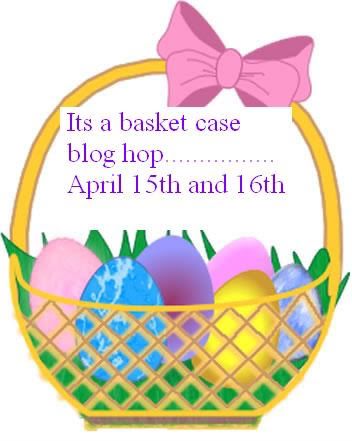 Welcome to the It's a Basket Case Blog Hop
If you came from
Audery's
, then you are in the right spot. If you happen to come upon my blog first, go to
Rhonda's
at start of this blog Hop. There are 20 talented bloggers in this hop. I wanted to say Thank you to Rhonda for asking me to be a guest for her first blog hop. I'm so excited.
I've a rough week with two babies who are sick. I however was able to finish this quick project for you.
I used Tags, box, and more cartridge for popcorn box at 5 1/2 then I printed a rabbit face onto pink cardstock I just used my stampin up pink to color the inside of ear and whisker spot. then I trim it and glue to front of the box. On the back of box, she has a pink cotton tail made from yarn. I find utube to make my own pompom. I glue it to the back of box. Add shredded paper for whisker and there you have it a bunny treat box. i hope you enjoy it. Below is the list who is participating in the blog hop, if you get lost on the way, you can come back and check on the list.
I have a small giveaway: Stamping Up eyelet border punch.
Please become a follower if you would like. It is not require for the giveaway. Please leave a way for me to contract you if you are winner. It is open for everyone. I will pick winner on Apirl 17th, 2011. Thanks for visiting, please head to
Flamenco92627
for her awesome basket...
"It's a Basket Case" Blog Hop (April 15-16)!! Here's a list of the ladies participating... Start
HERE
...
Amy's Scrapping, cardmaking, and living with fibro