I'm sorry I wasn't able to get this post yesterday as the lighting was not helping my picture taking. It has been cold and dreary here. My inspiration for three page layouts was based on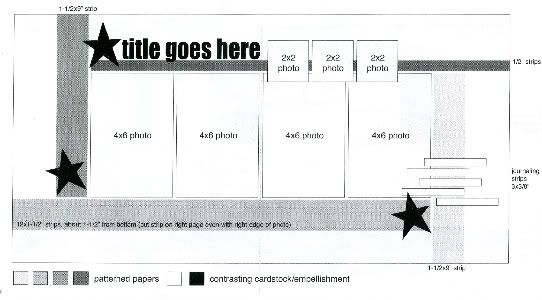 Scrapbooking Ali (currently now Sketch Support). Few months ago I was inspired to do this layout of my daughter playing in the playground.
I finally was able to get a clear picture of my three page layouts--I just love these colors. It is not the best quality picture i was hoping for. the window where I was trying to take picture of this kept giving me glare on the picture. Anyhow,I move the bottom pp to bottom so i can add more pictures as I had alot. The second page i expand the title area and add three pictures in middle to add all the pictures i want to add and then I use Pisca to add the smaller pictures across the three pages. I just love how this turnout.
The orange background is Stampin' Up, the rest came from the kit I won in June 2010. I think it was either from Pink Cricut or Scrap Brlz(can't find the website now). The green journal card came from creative memories. The fresh air circle was created from graphic speaking. I add blue brad to
bring the blue in along with the good times saying. I had fun creating this layouts.
I am hoping to work on my dec daily finish up journals and get them printed out. I only have 15 more to go then will done Next step is to get pictures develop. I went to Michael's today but they were sold out of cricuts (9.99). oh, well. I also was looking for specific colors for a challenge I want to do and I could not find the colors I needs. oh, well yep I left without buying anything. more money in my purse.
I will try to post more tomorrow. Thanks for reading!